Unleash your inner innovator
In one day, you will explore another side of yourself. This bootcamp is dedicated to all enthusiasts interested on adding a new innovation method on their toolbox: Design Thinking.
It's a human-centered design approach ideal for exploring new possibilities, generating new ideas and solve challenges in a creative way. It's widely used around the world in many companies and Universities.
This Bootcamp includes solid theory along with collaborative & practical activities that will guide you through the 5 stages of the Design Thinking process with the objective of creating better solutions that answer to your customer needs.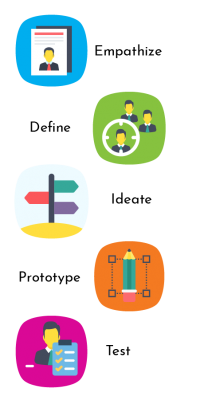 By the end of this Bootcamp, participants will be able to:
Explain what Design Thinking process is about

Get to know clients needs from an empathy perspective

Analyze challenges and opportunities and redefine the value of a service or product.

Generate ideas and select the best ones.

Create simple prototypes, test them and gather early & fast feedback to iterate and improve the final solution.
Design Thinking Introduction


Bootcamp Challenge Presentation

Stage 1: Empathize

Stage 2: Define

Fase 3: Ideate

Fase 4: Prototype

Fase 5: Test

Results 
Assistance certificate


Materials and workbook


Czispa Design Thinking Toolkit full of actionable resources!
Individuals who, despite their profession, would like to acquire new tools to solve complex challenges in a simple and structured way.
The Bootcamp has no specific prerequisites.