Management 3.0 Foundation
In two days, attendees will explore along with Martie – the six-eyed monster created by Management 3.0 –  the six organizational dimensions supporting individuals crafting and redefining leadership based on human-centric, collaborative concepts.
The workshop includes tools and practices to support the development of high performing teams, including complex thinking & agile methodologies concepts. It's based on the best seller Management 3.0 written by Jurgen Appelo.
We will explore how can we improve our workplace environment, boost innovation, empower employees and develop value in the organization through different group dynamics, games and group discussions.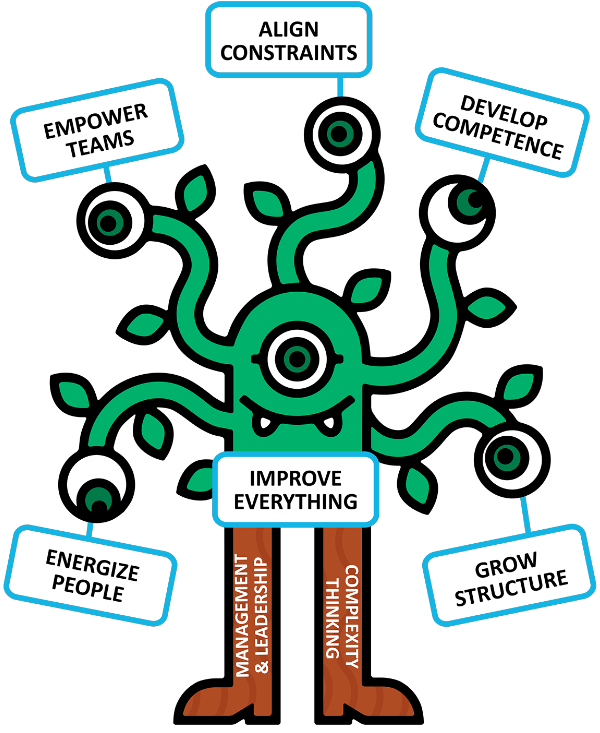 By the end of the Management 3.0 Foundation Workshop, participants will be able to:
Act as change agents in the organizational continuous improvement process.

Gather tools to motivate individuals and teams in an effective & creative way.

Empower & boost confidence at the organizational level.

Improve communication and alignment towards objectives.

Promote innovation and organizational learning.

Motivate agile teams to maximize business value.
Our workshop is divided into 10 modules:
Management & Leadership

Complex Thinking

Agile Product Development

Energize People: Motivation & Engagement

Empower Teams: Delegation & Empowerment

Align Constraints: Values & Culture

Develop Competence: Learning & Competences

Grow Structure: Scaling Organizational Structure

Improve Everything I: Success & Failure

Improve Everything II: Creativity & Innovation.

To improve experience quality, we might adjust the workshop content according to the needs & requests of the participants.
2-day-Workshop (8 hours per day)

Workshop Materials & paper Handbook.

Lunch & coffee breaks.

A copy of the book "How To Change The World" (ebook version)

Official Management 3.0 / Happy Melly Certificate of Attendance.

Czispa's Management 3.0 Toolkit (Including Delegation Poker cards, Moving Motivators & Many other actionable resources to boost collaboration within your environment!)
Project Managers, Product Owners, Product Managers & all those responsible for connecting strategy with execution.

Scrum Masters, Coaches y consultants interested in facilitating collaboration between teams and boost motivation.

Organizational Change Managers.

HR Professionals who need to attract, develop and retain talent.

Individuals in leadership positions that are looking for new and effective ways to empower teams.

All those individuals that, regardless of their position, would like to reinforce their leadership and management skills. Remember, ¡Leadership is a joint responsibility!
All individuals are welcome regardless of their educational background and/or experience.
This Workshop includes an official Certificate of Attendance by Management 3.0.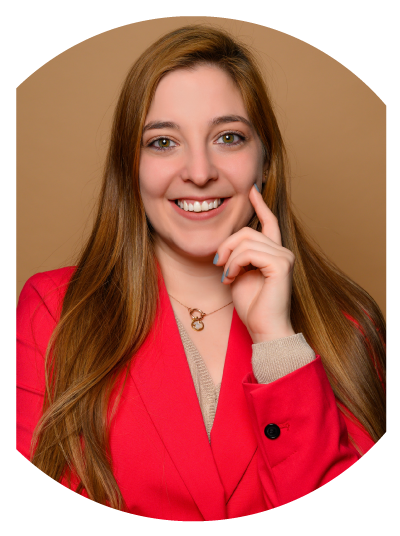 Business Transformation Consultant & Trainer
SAFe® 5 SPC |  Management 3.0 Facilitator 
ICC Certified Coach |  PSM® | Prince2® 
NLP Practitioner | Design Thinker
With a strong technical background combined with human-centric skills, Sabrina supports organizations to create and nurture efficient, engaged, collaborative and happier teams that delight their customers with innovative products or services.
Sabrina has cooperated for 10+ years with teams in Europe and Latin America on the IT field wearing different hats (from being developer on a startup to IT Manager on a multinational company). She participated and led projects on the following areas: Software development, Change Management, Business Strategy & Development, Infrastructure, Security Information, Merges & Digital/Cultural Transformations.
As a 'learn-by-doing' enthusiast, her trainings are full of energy as well as games, dynamics, co-creations & simulations to share and learn through experience & experiments.
Frequently asked questions (F.A.Q.)
Turn your challenges into opportunities!
Consulting & Training Boutique specialized in Business Transformation.
We tailor the best project management & agile practices to each organizational environment to maximize their growth & create value in fast-paced environments while nurturing a happy, sustainable workplace.
Czispa is the Polish pronunciation of the Spanish word "Chispa" (in English "Sparkle").
The expression 'to have chispa' or 'to sparkle' refers to someone/something that spreads happiness, energy & dynamism. 
We cultivate that mindset & support people to create & manage changes positively.